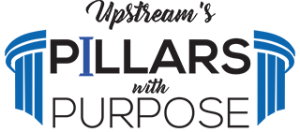 As part of the Upstream Rehab family of clinical care, our commitment to serving the community is just as strong as our commitment to serving patients.  Our guiding principles extend far beyond the walls of our centers and the hours in which we operate. Our culture is based upon stewardship and servantship with the expectation that each member of our team will make a difference in the lives of those around them, one person and one community at a time.
Through financial contributions and the volunteer efforts of our employees, Upstream Rehabilitation strongly supports many non-profit programs and organizations on both a local and international level. Serving our communities is a company-wide expectation, which is why each full-time employee is given a paid charity day in which they can give back to their local community.
Pillars with Purpose Charitable Funds are the first ever formalized giving vehicle for Upstream Rehabilitation employees to give to a cause of their choice in an impactful way.
To request a grant from one of our funds, please use this form.
Benevolent Fund for Children & Family Welfare
Benevolent Fund for Cancer Research & Patient Care
Benevolent Fund for Military Personnel & Family Care
Benevolent Fund for Emergent Needs
Benevolent Fund for Faith Based Initiatives
Benevolent Fund for Domestic & International Missions
Benevolent Fund for Charitable Giving
As the African proverb reminds us, "If you want to go fast, go alone. If you want to go far, go together." The Pillars with Purpose benevolent funds were formed with the goal to bring all associates together, appealing to everyone's hearts, to make a difference in the lives of so many. I'm forever grateful for the opportunity to serve our team in the role of visionary for philanthropy of our company.
Luke Drayer